Provide the perfect homey balance in your hotel or guest rooms. The MEDINO dressing bench is a simple, but incredibly practical piece of furniture that is perfect free-standing or as a visual extension of the bed when positioned as the base.
depth
43 cm
height
45 cm
broad
80 - 200 cm
MEDINO
Bedroom bench
collection 2022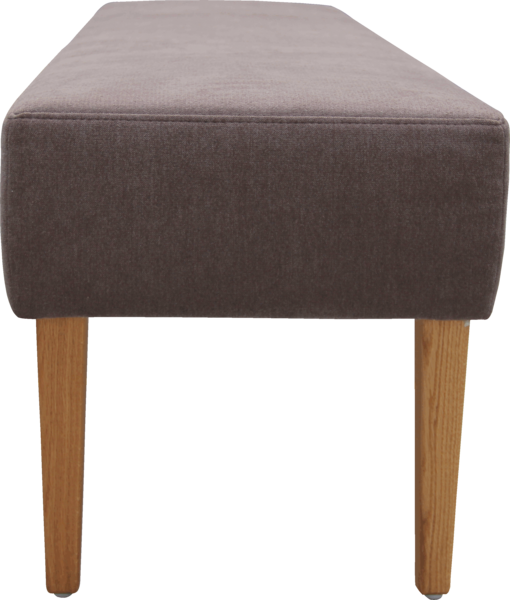 With a bedroom bench, you not only add to the overall ambience of your premises, but also
offer your guests a cosy seating option or versatile storage space. Available space is optimally used.
Configure the bench as desired in a look that matches your room design. RILEY is available in six different sizes so that it can be perfectly adapted to standard bed widths. RILEY can also be used as a practical stool for smaller designs. A pleasant foot height ensures you sit comfortably in any case.
The straightforward and elegant design harmonises with lots of living concepts and existing interiors. With a large selection of high quality covers, nothing stands in the way of more striking looks.
Feet are indispensable for furniture and also determine the look and effect of the piece of furniture in the room. So that Medino is guaranteed to match every furnishing style, the bed bench was given wooden legs. The material is a modern classic and gives each piece of furniture an individual character. Whether made of sturdy and solid beech wood or sturdy, strong oak feet - the dressing bench can be perfectly integrated into any hotel or property as a comfortable seat.
The partnership with Symphonic is characterized by excellent advice and very good cooperation!
Florian Lingenfelder | König Ludwig Schwangau
Owner
Technical structure & material
1. Frame
The base consists of solid beech wood and plywood. Cross-connections and supporting parts of the frame are made of robust and stable beech wood. Part of the flat elements are plywood panels, which are made of at least 3 veneers glued together.
2. Feet
The normal height of the feet is 27cm. Optionally, the legs of the bed bench are made of durable beech wood or robust oak wood. Due to their hardness and density, both types of wood are particularly suitable for load-bearing furniture parts.
3. Suspension
The seat suspension consists of a belt suspension: elastic upholstery belts are stretched over the seat frame and thus ensure soft seating comfort. Upholstery belts are used for the construction, especially with rounded elements.
4. Basic padding
The basic upholstery consists of high-quality polyether foam. Due to its elasticity, the PUR foam almost immediately returns to its original shape when the load is relieved. Optionally, the bed bench can be equipped with cold foam with a medium degree of hardness or a flame-retardant upholstery.
5. Fine padding
For the fine upholstery, a soft and thermally bonded upholstery fleece mat made of polyester fibers is used. As the last layer under the cover fabric, the surface is well padded and unevenness is leveled out.
6. Cover
From flat weave, woven velour, flockware to swirl fleece – choose your favorite cover from 600 different fabrics, colours, patterns and textures. In order to guarantee maximum design diversity, individual customer fabrics can also be processed.
Downloads
Register now and get full access to the entire 3D database, photos and data sheets.
Get access now
Contact Us
We are looking forward to your inquiry.