OMINA features a flexible backrest system that promotes dynamic sitting. This ensures that even extended periods of sitting are comfortable and ergonomic, thanks to the lumbar support. OMINA is available as a chair with or without armrests, as well as a bar stool or slightly lower counter stool, each without armrests.
hight
95 / 96 / 110 cm
depth
54 / 64 cm
seat hight
51 / 66 / 81 cm
seat depth
40 / 46 cm
OMINA
Upholstered chair
collection 2023/24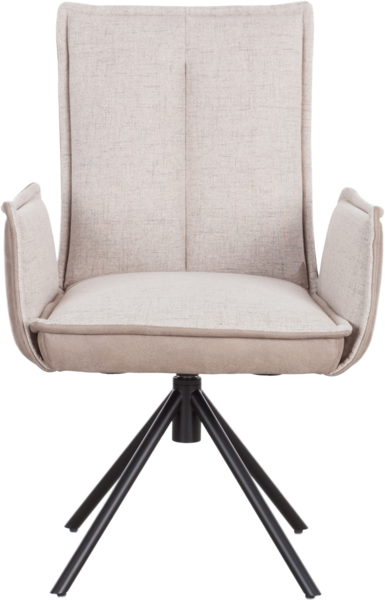 Flexible & Dynamic: Sitting becomes an experience
A multi-course meal in a restaurant, a long chat at the hotel bar, the atmosphere is good and the comfort level rises. The only thing that can disrupt this good mood now is uncomfortable seating. After all, sitting in a rigid posture for an extended period is inherently uncomfortable. And discomfort is the last thing anyone wants for their guests.
Proving that even sitting can be a thoroughly dynamic process, the OMINA chair comes equipped with a real innovation that counteracts the rigid feeling of sitting. At first glance, you might not realize, but hidden within this trendy chair is furniture technology that adapts to the body's natural movements.
Lean forward, lean back, rock – none of this is a problem with OMINA. This is made possible by flexible slats in the backrest, ensuring dynamic, ergonomic sitting. The reversible deformation of the backrest depends on the position and magnitude of the force applied. The slats automatically adapt to the body and move with every activity. This ensures that even prolonged sitting becomes a comfortable pleasure, also providing ergonomic support in the lumbar region.
Great on the inside – and outside too
Promising internal values and an exterior that is equally convincing – OMINA offers both, making it ideal for all areas where people gather. Whether in a restaurant, bar, or hotel room, with various versions available, there's a suitable chair for every occasion. OMINA is available as a chair with or without armrests, as well as a bar stool or a slightly lower counter chair, both without armrests.
As with everything, it's the details that count – and they have been thought through down to the last seam. The minimalist design with smooth seat cushions and vertical indentation is refined by a standing seam. To match, there are two base designs to choose from: prefer a star base with a 360-degree swivel function or trendy metal runners? Both versions are available in black or titanium. And speaking of choices, the durable upholstery fabrics also meet the high demands of the hospitality and hotel industry.
Symphonic has been our supplier of upholstered furniture, chairs and bed systems for years. We were won over by the good advice, an excellent price-performance ratio and, last but not least, the friendly sales. Our guests also notice the excellent quality and workmanship of the furniture and add value to every room. Always on-time delivery, almost unlimited customization options for the well-thought-out hotel furniture make the purchase decision easy. If we can buy something from Symphonic, we don't even ask for an alternative offer - that says it all!
Volker Thum | Bayerischer Wald
Managing Director
Downloads
Register now and get full access to the entire 3D database, photos and data sheets.
Get access now