Introduce guests to the new way of sitting with the OZITA chairs, which prioritize mobility and ergonomics over rigid staying. What may not be immediately apparent at first glance is skillfully hidden within the chair's interior: an innovative system in the backrest that adapts flexibly to the body and seated movement.
hight
95 / 96 / 110 cm
depth
54 / 64 cm
seat hight
51/ 66 / 81 cm
seat depth
40 / 46 cm
OZITA
Upholstered chair
collection 2023/24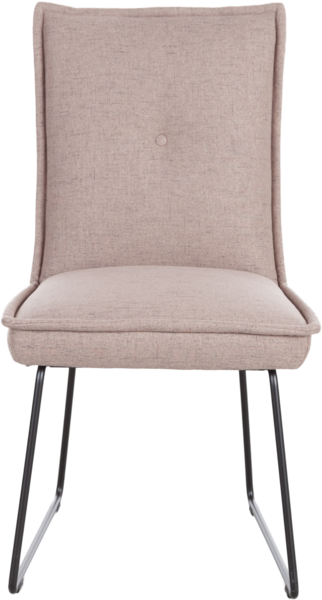 Dynamic instead of static: The new way of sitting
In the hotel and catering industry, top-class service plays a central role. However, the interior and the atmosphere it creates are just as essential for comfort. Guests who feel at ease tend to return and stay longer. If the seating is uncomfortable or the back starts to hurt after only a few minutes, this can impact the visit.
Introduce your guests to the new way of sitting with OZITA chairs, which, instead of rigid endurance, score points for mobility and ergonomics. What is not immediately apparent at first glance is cleverly hidden inside the chair: an innovative system of movable slats in the backrest that flexibly adapt to the body and the seating movement. The deformation of the backrest always depends on the position of the applied force and its magnitude. While the lower back is well-supported, the upper area remains entirely flexible.
Innovative technology and design statement
A seating system that brings noticeable joy to guests and a design that also pleases the eye – OZITA is a successful symbiosis of both. The motto is outstanding seating comfort and modern understatement. The appearance is characterized by straight cushion and back surfaces with buttons and standing seams.
Create the perfect feel-good atmosphere and equip the chair with a textile suitable for gastronomy and hotel industry as well as matching feet. Slightly curved runners or a star base with 360-degree rotation including a return spring? The choice is yours. Both foot variants are available in black or titanium.
By the way, with OZITA, you can equip your entire property uniformly. The chair is available in different types – from a cozy restaurant chair with or without armrests to bar and counter chairs.
Downloads
Register now and get full access to the entire 3D database, photos and data sheets.
Get access now