Relaxing with a good book, letting your mind wander, or even dozing off into dreamland – pure relaxation for your guests is guaranteed with the IVORA wellness lounger. No matter where you place the upholstered piece of furniture – people will be happy to sit on it and enjoy a pleasant happy moment.

IVORA
wellness lounger
collection 2022
The design with subtle lines is timeless and incredibly inviting. The particularly airy look of the relax lounger is created by the raised mounted feet. Exquisite seated and lounging comfort is guaranteed by the relaxed upholstery, which gently caresses every curve of the body. The modern piece of furniture can also be adapted to your individual wishes. Design the relax sofa the way you want and choose details such as the fabric or colour of the cover. If desired, you can also add special visual eye-catchers, such as a decorative button stitching. A variably adjustable backrest is also optionally available – while lounging, your guests can thus easily change between various seated and lounging positions.
Express your individuality with a relaxation lounger specially designed according to your ideas. Whether simple without elaborate seams and quilting or elegant with finely quilted two-row button stitching - Ivora is the epitome of flexibility and can be designed in a variety of ways. Elegant and sophisticated, the relax sofa can be optimally integrated into any hotel or contract setting. With the continuously adjustable backrest, the lounger can be adapted to personal needs and guests will always find the most comfortable lying position for them.

Symphonic has been our supplier of upholstered furniture, chairs and bed systems for years. We were won over by the good advice, an excellent price-performance ratio and, last but not least, the friendly sales. Our guests also notice the excellent quality and workmanship of the furniture and add value to every room. Always on-time delivery, almost unlimited customization options for the well-thought-out hotel furniture make the purchase decision easy. If we can buy something from Symphonic, we don't even ask for an alternative offer - that says it all!
Volker Thum | Bayerischer Wald
Managing Director
Technical structure & material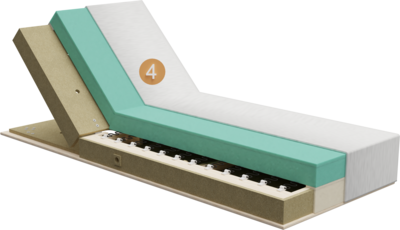 1. Frame
We chose hardwood mixed with plywood panels as the raw material for the IVORA base. The two wood materials create a dimensionally stable and resilient base frame. The entire frame construction thus guarantees high stability and robustness.
2. Seat structure
Flexible and comfortable in many layers, the basic spring base is the basic requirement for constant seating comfort. Flexible when sitting down and yet stable in shape over many years, steel wave springs (NOSAG) have the necessary properties.
3. Basic padding
The core padding consists of polyether foam. The material is characterized by a honeycomb structure, which gives the material above-average resilience and dimensional stability. Optionally, the lounger can be made with cold foam with a medium degree of hardness or a flame-retardant basic upholstery.
4. Fine padding
Finely upholstered, the soft upholstery fleece mat snuggles up to your body contours under your desired cover. The model-typical waves are a sign of the casual upholstery.
5. Cover
A strong color as an eye-catcher in your ambience? Not your style? Then perhaps you would prefer a piece of furniture in natural tones. Whatever you choose, our extensive selection of fabrics and textile leather gives you creative scope for realizing your own ideas.
6. Feet
IVORA is carried on 16 centimeter slim furniture feet. You make the choice whether chrome, a stainless steel look or rather the black base variant best suits your lounger.
Downloads
Register now and get full access to the entire 3D database, photos and data sheets.
Get access now
related products
Contact Us
We are looking forward to your inquiry.