The IMPOSA stands as the epitome of serene luxury. Use this multifunctional wellness lounger to provide a cozy retreat for your guests, inviting them to unwind and recharge. Its modern design, defined by its sleek lines, exudes contemporary comfort and elevates the atmosphere of your space.
IMPOSA
wellness lounger
collection 2023/24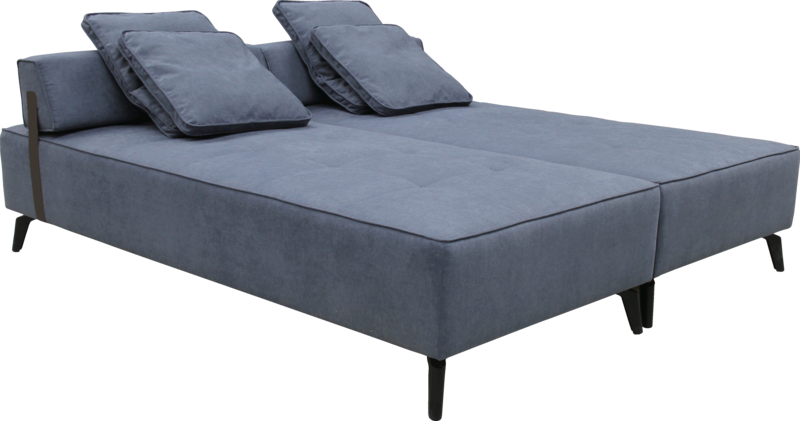 Its functional details guarantee convenience. For instance, guests can customize their seating experience by adjusting the flexible back cushion to their preferred lounge or seating position. Moreover, two individual loungers can be swiftly combined using the optional assembly set to create a spacious double lounger, suitable for two. The relaxation sofa comes in three varying widths, and when two loungers are merged, they can replicate the dimensions of a standard double bed.
The customization options are equally versatile. The aesthetically crafted back cushion strips can be selected in either brown or black leather. Complementing this, you have an extensive palette of colors and fabrics for the upholstery and a variety of foot designs to choose from, ensuring the wellness lounger aligns perfectly with your envisioned aesthetic.
Technical structure & material

1. Frame
Hardwood, softwood and chipboard: All three wood materials are used for the supporting wooden frame. Hardwood and softwood provide the necessary stability and are also used for connecting parts, chipboard is used in surface elements.
2. Seat structure
A slatted suspension is used for the seat suspension. The slatted frame-like substructure supports the body in every position and creates a comfortable sitting and lying feeling.
3. Seat padding
Comfort just the way you want it: the standard version of IMPOSA is equipped with high-quality polyether foam, which thanks to its adaptability keeps its shape for a long time. If you prefer it to be more cuddly, you can opt for cold foam with a medium degree of hardness or for a flame-retardant basic upholstery.
4. Fine padding
Not only impressive because of the look, but also because of the seating comfort: The soft upholstered fleece mat directly under the cover refines the sitting pleasure. The loose upholstery with the wave formation typical of the product is particularly impressive when it comes to processing.
5. Cover
You can create a personal look to match your interior from over 600 furniture covers. Due to the large selection, starting with soft woven fabrics and flat fabrics to high-quality textile leather in a wide variety of colors, there are no limits to your creativity.
6. Back padding
Luftdurchlässig, formstabil und trotzdem elastisch ist der Polyätherschaum ideal für die Polsterung der Rückenlehne geeignet.
7. Feet
Various base variants with a height of 16 centimeters complete the look of the lounger. Classic wooden legs, elegant chrome versions or powder-coated metal – IMPOSA can be further individualized with various furniture feet.
Downloads
Register now and get full access to the entire 3D database, photos and data sheets.
Get access now