Slowing down and recovering is guaranteed when you set up a space to relax and feel good for your guests with the INSPIRO lounger. Use the relax sofa to add an attractive lounging option to your spa area, or add a cosy component to lounge areas and entryways. As a modern island of tranquility, you enrich your spaces with a casual flair.
INSPIRO
relax lounger
collection 2022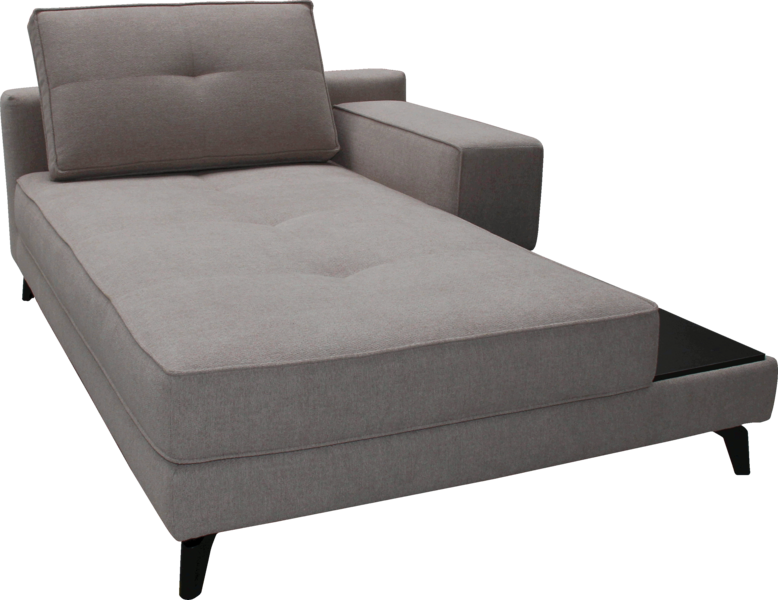 The trendy design, soft upholstery and a subtle button stitching combine to form an excellent piece of seating and lounging furniture, which exudes a touch of Italy. Practical details finish the timeless design: The beautiful wooden shelf is an individual eye-catcher and functional refinement at the same time. You can optionally expand the relax lounger with comfortable armrest cushions and a storage bag.
Adjust the wellness lounger to your own desired style with a personally selected contractor. Fine fabrics and lather are available in a balanced variety of colours. It is also possible to design INSPIRO as a generously sized double lounger.
Relaxation lounger to fall in love with: Inspiro invites you to feel good with its subtle design, trendy shapes and soft, single-row button fastening in the middle of the lying surface. The large reclining area is comfortably framed with a straight backrest. You can also optionally add a comfortable armrest cushion, which can be harmoniously attached to the wellness lounger on the wooden shelf.
We were completely satisfied with the quality, the handling and the delivery. Customer requests were met and the requirements were implemented smoothly and cleanly. Thank you for the good work.
Michael Zimmerhofer | Schwarzenstein Luttach
Technical structure & material
1. Frame
For the base frame, hardwood and softwood are used for cross-connections and base elements, while plywood panels represent the flat parts. The panels made of multi-layered larger and smaller chips and the solid wood form the solid base.
2. Seat structure
Steel wave springs, also known as nosag springs, are used in the seat as a stable and durable spring base. They only give way where pressure is exerted and spring back to their original shape after the pressure has been relieved.
3. Backrest
Why are padded straps built into the backrest? Padded straps support and relieve the back at the same time. You can lean back and relax, but don't sink into the upholstery.
4. Basic padding
The basic comfort of the Nosag suspension is supplemented by high-quality polyether foam. The construction is dimensionally stable and particularly elastic when sitting down. There is also a choice of seat upholstery with cold foam of medium firmness or a flame-retardant basic upholstery.
5. Back padding
The backrest is upholstered with polyether foam, whereby attention is paid to the usual seating quality. Typical of polyether foam is its long-term elasticity and dimensional stability. The open pore structure ensures a pleasant seating climate, which allows good ventilation.
6. Fine padding
The last layer under the cover is a soft padding fleece mat. This ensures comfort. The visible wave formation of the furniture cover is a typical feature of the casual upholstery from INSPIRO.
7. Cover
You can create a personal look to match your interior design from over 600 furniture covers. Due to the large selection, from soft woven fabrics to flat fabrics and high-quality imitation leather, there are hardly any limits to your creativity.
8. Feet
Individuality in the choice of legs: standard in 16 centimeters, you can choose to match the cover fabric for furniture legs in chrome, black or stainless steel look, as well as between beech and oak wood.
Downloads
Register now and get full access to the entire 3D database, photos and data sheets.
Get access now
related products
Contact Us
We are looking forward to your inquiry.