The STRONG sofa bed impressively proves that stylish design is everlasting. Made to a high standard, it combines elegant sofa design with functional finesse. The modern, linear shape of the seating furniture harmonises wonderfully with trendy as well as retro furnishing styles. Thanks to the various installation options, you can ideally adapt the sofa bed to your circumstances.
depth
100 cm
height
85 cm
seat depth
55 cm
seat height
44 cm
STRONG
Sofa bed
individual covers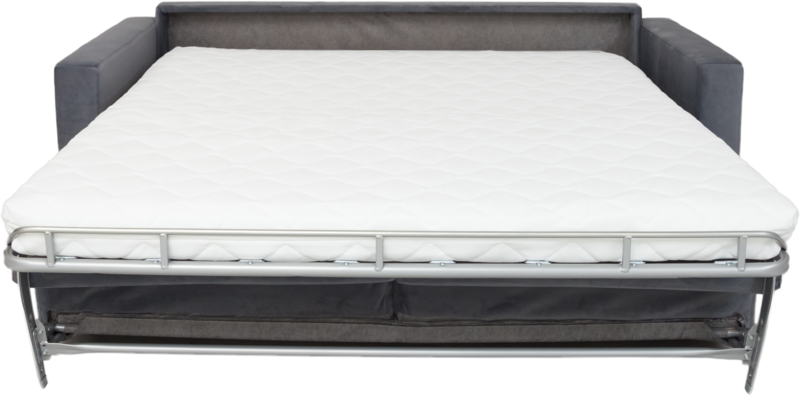 Make the best use of the available space with a compact two-seater or a spacious couch with a chaise longue to stretch out comfortably. If there is less space, place the STRONG sofa bed as an armchair. A large selection of cover materials is available to match. Combine the equipment variants according to your ideas and also select the armrests as you wish.
Well thought out down to the last detail: The heart of the sofa is the clever sleeping function, which also turns the seat into a practical guest bed and is therefore indispensable in your hotel room. During the day, the sofa bed STRONG functions as a casual couch, in the evening it becomes a full-fledged place to sleep in no time at all by simply folding the backrest forward. The resulting lying surface is as comfortable as a conventional bed.
Technical structure & material
1. Frame
A metal base is used for moving parts, such as the pull-out sleeping function. In addition, a load-bearing frame construction made of hardwood and softwood as well as wood-based materials - panels made of chipboard and plywood - is used as a strong substructure.
2. Spring base
Various spring bases form the solid basis of STRONG. NOSAG springs are used for benches, chaise longues and intermediate elements because of their stability and durability. With double bed elements and sleeping elements you lie softly on a lattice and slatted spring base. The body is well supported during the night and creates a pleasant feel-good climate.
3. Back padding
Leaning comfortably is not a one-off experience. High-quality, elastic polyether foam is used for the upholstery of the backrest so that the level of comfort remains constant over the years. Even after prolonged use, it returns to its original shape.
4. Basic padding
For the basic upholstery, we at STRONG use firm cold foam in combination with a cold foam layer with a medium degree of hardness. Flexible and dimensionally stable, the cold foam keeps its high quality for a long time. Optionally, a flame-retardant base upholstery can also be added to the sofa bed.
5. Fine padding
Be snugly wrapped - the soft padded fleece mat made of polyester fibers makes it possible and adapts to your shape when sitting or lying down.
6. Cover
Finding the right shade of color is time-consuming? Not with us. You can individually choose the perfect colour, feel and pattern from our large range of upholstery fabrics and textile leathers.
7. Feet
Flexibility is very important here. Square or round, plastic or wood: choose from 8 different leg models and adapt the furniture legs to your sofa bed.
8. Armrest
Optionally, modular armrests can be added to the sofa bed STRONG. Choose from eight different designs for a variant that suits your configuration. From thin to wide and simple to pronounced armrests, you will find different shapes in our furniture configurator.
Downloads
Register now and get full access to the entire 3D database, photos and data sheets.
Get access now
Contact Us
We are looking forward to your inquiry.