The sofa bed Simore allows comfortable sitting and sleeping in one. During the day, the sofa bed offers space for cozy hours, at night the sofa is quickly converted into a bed and there is additional sleeping space. Simore is available in different versions: with or without armrests, and the design and upholstery fabric can be individually adapted to customer requirements. Only you decide which variant suits your interior best!
depth
86 cm
height
81 cm
seat depth
54 cm
seat height
45 cm
SIMORE
Sofa bed
collection
2022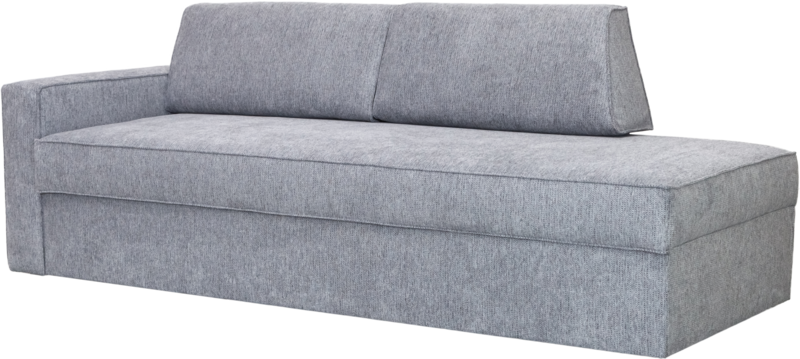 A sofa bed made for compact spaces. Are you still looking for a comfortable and space-saving extension for your hotel or guest room? With its casual shape and clever sleeping function, the SIMORE sofa bed is an excellent solution for gaining more space. During the day your guests use the sofa as a stylish relaxation oasis including large back cushions to lean on. In the evening, the sofa bed can be transformed into an extremely comfortable sleeping area with just two or three movements.
The restrained design blends seamlessly into various furnishing styles. With a wealth of configuration options, the sofa can also be adapted to your individual needs. The SIMORE sofa bed can be designed with or without armrests on the sides. If you opt for the side parts, two different variations are available. For the perfect overall appearance, you can also choose a cover material from high-quality, hard-wearing fabric collections in both subtle and colorful nuances. The feet can also be combined according to the design concept. Gliding feet, which ensure a low-to-the-floor look, but also furniture legs made of wood, aluminum or chrome complete the aesthetics of the sofa bed. The foot models are available on the one hand in normal height and on the other hand in comfort height.
Technical structure & material
1. Frame
For the particularly stable wooden base frame, hardwood and softwood are used for load-bearing parts. Chipboard and plywood panels are used for flat elements. When used in a typical manner, a solid basis is created.
2. Spring base
As is typical for our seating furniture, SIMORE steel wave springs or NOSAG springs were also used as the basic elasticity. This cushions stably for years and forms a solid slat base.
3. Back padding
The backrest is padded with polyether foam. Typical of the foam: Its long-term elasticity and dimensional stability. The open pore structure ensures a pleasant room climate, which allows good ventilation.
4. Basic padding
The basic comfort of the NOSAG spring base is supplemented by high-quality polyether foam and a cold foam pad with a soft degree of hardness. This structure is both dimensionally stable and particularly soft and elastic when sitting and lying down.
5. Fine padding
The soft upholstery fleece mat directly underneath your chosen furniture cover refines the seating comfort. The model-related wave formation is typical of the product and an expression of the casual upholstery.
6. Cover
Whether fabrics with different haptics or fine textile leather, in various colors from earthy tones to strong colors - you choose from an almost infinite variety of over 600 different cover materials.
7. Feet
The black 3 centimeter high gliders disappear under the sofa bed to protect the floor.
Discover uniqueness
Register now and get full access to the entire 3D database, photos and data sheets.
Get access now
Contact Us
We are looking forward to your inquiry.