The Simore sofa bed elegantly marries the comforts of sitting and sleeping. By day, it serves as a snug retreat, and by night, it effortlessly transforms into a cozy sleeping spot. Tailor Simore to fit your preferences: opt for versions with or without armrests, and customize the design and upholstery fabric. Ultimately, you decide which variant complements your decor the best.
depth
86 cm
height
81 cm
seat depth
54 cm
seat height
45 cm
SIMORE
Sofa bed
collection
2023/24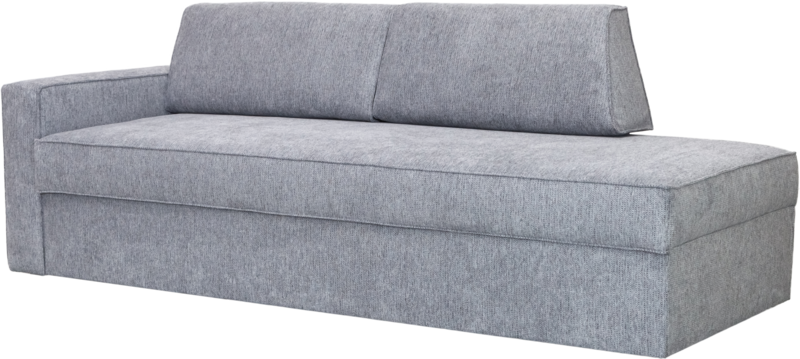 Designed for spaces that require compact yet comfortable solutions. If you're in search of a chic yet functional addition for your hotel or guest room, the SIMORE sofa bed is your answer. Throughout the day, it beckons guests as a chic relaxation haven, generously padded with large back cushions. And when night falls, a few simple moves convert it into a sumptuously comfy sleeping space.
Its understated design smoothly integrates with a myriad of interior styles, allowing for versatility. With a wide array of configuration options, the sofa is easily molded to suit your specific needs. Decide on the presence or absence of side armrests on the SIMORE, and if you lean towards including them, two distinct variations await your selection. Perfecting its look is a breeze with an assortment of premium, durable fabric collections available in both muted and vibrant shades. Further, refine the look with feet that resonate with your aesthetic; choose from gliding feet for a grounded appeal or opt for furniture legs crafted from wood, aluminum, or chrome. These leg models come in two heights, standard and comfort, to cater to varied preferences.
Technical structure & material
1. Frame
For the particularly stable wooden base frame, hardwood and softwood are used for load-bearing parts. Chipboard and plywood panels are used for flat elements. When used in a typical manner, a solid basis is created.
2. Spring base
As is typical for our seating furniture, SIMORE steel wave springs or NOSAG springs were also used as the basic elasticity. This cushions stably for years and forms a solid slat base.
3. Back padding
The backrest is padded with polyether foam. Typical of the foam: Its long-term elasticity and dimensional stability. The open pore structure ensures a pleasant room climate, which allows good ventilation.
4. Basic padding
The basic comfort of the NOSAG spring base is supplemented by high-quality polyether foam and a cold foam pad with a soft degree of hardness. This structure is both dimensionally stable and particularly soft and elastic when sitting and lying down.
5. Fine padding
The soft upholstery fleece mat directly underneath your chosen furniture cover refines the seating comfort. The model-related wave formation is typical of the product and an expression of the casual upholstery.
6. Cover
Whether fabrics with different haptics or fine textile leather, in various colors from earthy tones to strong colors - you choose from an almost infinite variety of over 600 different cover materials.
7. Feet
The black 3 centimeter high gliders disappear under the sofa bed to protect the floor.
Downloads
Register now and get full access to the entire 3D database, photos and data sheets.
Get access now