The Sanila sofa bed radiates an inviting lightness. Exceptionally comfortable, it shines in both sitting and reclining positions. Its versatility is a standout feature. Whether you're looking for an extra sleeping space or a cozy spot to unwind, this piece of furniture adapts beautifully to any hotel or commercial setting. When the backrest is folded down, a spacious reclining surface emerges within moments.
broad
95 cm
depth
163 cm
height
92 cm
seat depth
56 cm
seat height
45 cm
SANILA
Sofa bed
collection
2023/24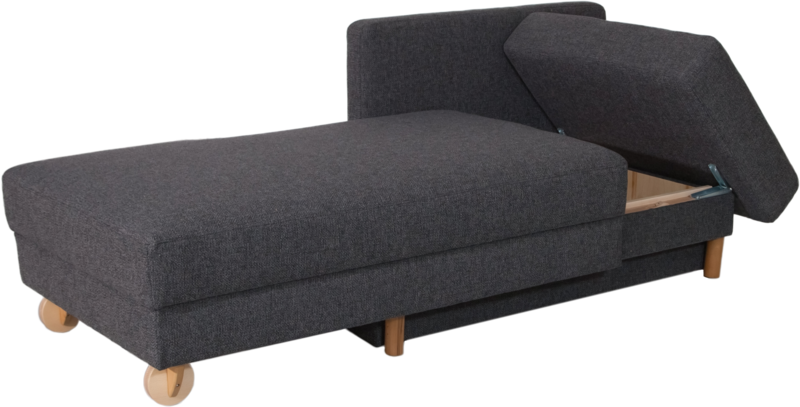 The SANILA sofa bed encapsulates all the essentials of a modern sofa bed designed for the contract sector. Its compact dimensions are space-efficient. The integrated sleep function allows for a swift transformation into a superb guest bed. To convert, simply fold down the backrest. Pillows and blankets are easily accessible in the accompanying bed box.
Generously cushioned sections beckon relaxation. Its asymmetrical armrest adds a touch of warmth, enveloping part of the sofa bed, fostering a sense of security. The wooden legs are not just functional but add a chic touch to the design. Beyond its aesthetics, the sofa's core components are impressive: the seating is made of breathable polyether foam complemented by a cold foam layer, while steel sinuous springs ensure gentle elasticity.
Already have a specific vision or a finalized interior concept? Tailor the sofa's aesthetics accordingly by selecting your ideal fabric covering from our latest collections. For enhanced mobility and convenience, you can opt to include casters, making the sofa effortless to move or reposition.
Technical structure & material
1. Frame
Wood and wood-based materials are used for the supporting substructure, which ensures the long-term stability of the furniture. Elements that have to withstand more stress are made of hardwood or softwood. Wood-based materials such as chipboard or plywood are used as surfaces, for example as side or back walls.
2. Spring base
Nosag or steel wave springs form the solid basis of the basic suspension. The springs give way slightly under load without the body sinking in too far. Particularly noteworthy: the long durability and dimensional stability.
3. Back padding
So that your furniture retains its comfort and shape for a long time, high-quality polyether foam is used in the backrest. Yielding when you lean against it, it regains its shape when you get up.
4. Basic padding
How would you like your lying comfort to be? High-quality polyether foam with medium-strength cold foam padding catches you and supports you. Is that too soft for you? Cold foam with a fixed degree of hardness is also available. Configure them according to your personal lying feeling.
5. Fine padding
As soon as you lie down, you feel how you are being gently received. The fine upholstery with a soft upholstery fleece mat directly under the cover offers you this comfort. The wave formation of the casual upholstery, which is specific to the model, is typical of the product.
6. Cover
With the selection of the furniture cover you can steer the style of your sofa in different directions. Trendy and modern or timeless and classic: the possibilities are almost inexhaustible, just like our extensive range of over 600 different cover materials.
7. Armrest
SANILA is supplemented by a one-sided armrest. The 75 centimeter high armrest skilfully rounds off the design of the sofa bed. The furniture on the side remains in place even when moving from the seat to the bed.
8. Feet
13 cm high wooden furniture feet round off the look of SANILA skilfully. Additional wooden castors are attached to the front so that the sofa bed can be easily transported and relocated.
Downloads
Register now and get full access to the entire 3D database, photos and data sheets.
Get access now