Interiour of
Restaurant Türkis
Custom-made gastro benches in an atmospheric atmosphere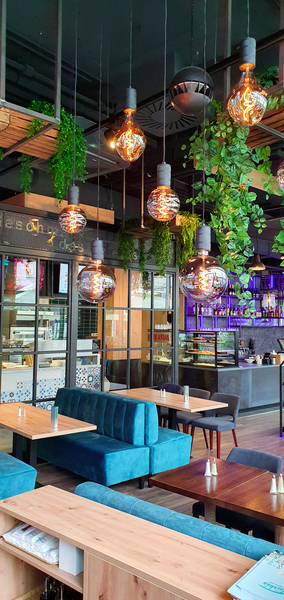 In the course of the renovation in 2020, we placed ideally coordinated, comfortable and inviting seating in the Türkis restaurant in Vienna's Donauzentrum. Precisely adapted to the style of the restaurant chain, SYMPHONIC produced diner benches in the finest materials, eye-catching colors and an elegant design.
Upholstered bench CHOICE is as unique as each restaurant itself and can be optimally adapted to the spatial conditions. Whether as a corner solution or free-standing, in a modern or classic design - the bench is characterized by a unique design language and can be integrated into any environment. Just like the name of the Viennese restaurant, the gastro benches were also papered with high-quality turquoise-blue fabrics. Fresh, bright blue conjures up a casual and cheerful atmosphere in the room and creates an exclusive feel-good ambience. The beige-brown corner benches from the upholstered bench CHOICE, which perfectly fill the back area of the location, are an excellent match. Classically quilted and with loose longitudinal stripes, the benches stand for timeless design and are just right for the open restaurant atmosphere. The black wooden feet also fit aesthetically into the overall picture. The upholstered benches are not only real eye-catchers, they also promise special comfort. The soft upholstery adapts perfectly to the shape of the body and invites guests to linger comfortably.
Do you need help planning your property?
We help you!
Do you need help shaping your vision?
Your visions and desires are the focus of your property planning. Careful preparation and a concept matched to your needs form the cornerstone for a successful implementation. As a renowned hotel and property outfitter, we accompany you in the planning phase, help you to implement custom concept solutions and create a cosy feel-good atmosphere, which awakens emotions and makes customers loyal.
Request a consultation now