Interior of
Hotel Seiblishof
Stylish and unique interior: The Hotel Seiblishof, the 4-star superior hotel in Ischgl, was remodelled and renovated in 2020, resulting in a new alpine living feeling. The reception area, hotel rooms, restaurant, bar and lounge were equipped with our exclusive upholstered furniture.
Exclusive comfy rooms with maximum sleeping comfort
In the superior hotel, all rooms and suites were renovated and redesigned into open spaces with a feel-good character. Tradition and modern lifestyle complement each other perfectly here. The smartly renovated hotel rooms promise plenty of space and absolute cosiness, becoming private tranquil zones for guests. The warm colours in shades of beige and brown as well as generous wood elements create a calm ambience, which conveys a sense of warmth and security to the guests. The positive properties of wood are reinforced by a holistic harmonious environment, creating a pleasant sleeping environment.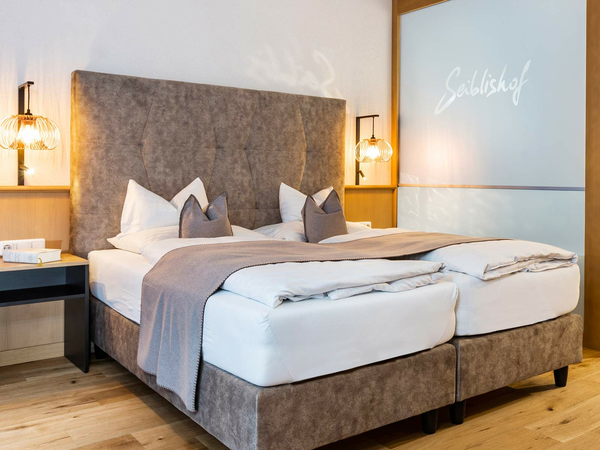 We have brought maximum comfort into the Seiblishof's hotel rooms with our elegant and comfortable box spring beds. The high-quality layered structure with the box spring base and the topper mattress create a dual suspension that provides the typical box spring feeling. Extra-high pocket spring core mattresses promise a particularly soft lying feeling and impress with excellent adaptation to your body contour. As a key design element, headboards give hotel rooms an individual character. At the Hotel Seiblishof, the headboards are in the Classic Panel Caro pattern for a timeless-refined design and radiate homey comfort.
Comfort rooms
Tone in tone, the box spring bed, wingback chair and lounger provide harmony and elegance in the hotel room. Our MIA wingback chair spreads calm and security throughout the whole room and at the same time is a real eye-catcher. The armchair is especially popular due to the so-called "wings" at head height, which create a retreat space on four legs. The modern comfort lounger THANKS is a comfortable seat in the room, is particularly space-saving and invites you to relax thanks to the high quality upholstery and soft back cushion. The high quality cover fabric is velvety soft and cuddly. Together with clean minimalistic lines, the lounger fits seamlessly into the room's overall concept.
During our remodeling & renovation in the 4 **** Superior Hotel Seiblishof ISCHGL, it was very important to us to use local materials and Austrian quality products. Symphonic was also able to implement our special orders quickly and at fair prices. All upholstered beds, couches, benches and seating contribute to the hotel's new ID with their uniform appearance.
Christoph Seiwald | Seiblishof
Stylish ambience in a restaurant, bar and entryway
Natural materials and exclusive colour concepts dominate the hotel's interior. To match the modern zeitgeist, the hotel bar, lounge and lobby area have round armchairs and benches with comfortable armrests and first-class upholstery. The impressive aesthetics of the seating furniture is rounded off by high quality covering fabrics in golden-brown shades and high, black metal feet. Guests feel at home at the bar. The bar stools provide comfort on social evenings in a timeless design to match the rest of the interior exactly. In the hotel restaurant, the straightforward designed TRUST bench with a high bench was flexibly adapted to the dining hall's premises and is ideal for guests to enjoy the exquisite cuisine and then linger afterwards. The diverse seating furniture at Hotel Seiblishof makes every space a favourite space for guests.
Do you need help planning your property?
We help you!
Do you need help shaping your vision?
Your visions and desires are the focus of your property planning. Careful preparation and a concept matched to your needs form the cornerstone for a successful implementation. As a renowned hotel and property outfitter, we accompany you in the planning phase, help you to implement custom concept solutions and create a cosy feel-good atmosphere, which awakens emotions and makes customers loyal.
Request a consultation now