Interior of
Hotel Maximilian
Natural charm and modern comfort: Design meets tradition at the Austrian Trend Hotel Maximilian. The 4-star hotel in Vienna was renovated in mid-2020 and we furnished it with new, fresh pieces of upholstered furniture and beds in the hotel rooms and lounge.
Stylistically unique hotel room furnishings with maximum comfort
Simply turn it all off and unwind: The furnishings and amenities in the hotel room are crucial so that guests feel at home in the hotel and can forget about their everyday worries. The quality of the hotel bed is especially important. Because you will remember your accommodation well if you are well-rested and wake up with new energy. At the Austrian Trend Hotel Maximilian, we have created sleeping comfort in a class apart with our luxurious box spring beds. The upper and lower bed are optimally ventilated with a coordinated combination of sprung base and mattress, creating a personal retreat with an excellent lying comfort.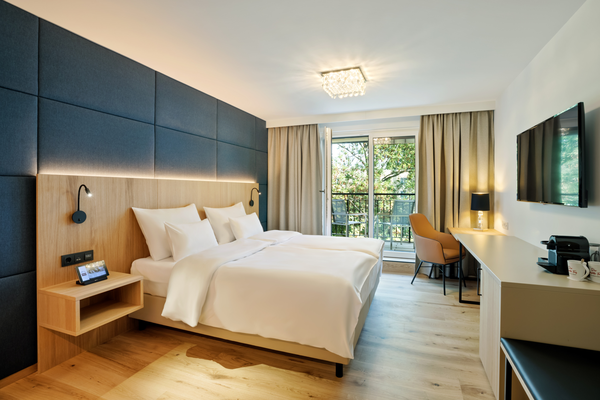 The particularly high and point-elastic cold foam mattresses perfectly adjust to your body and gives way where the body makes contact. Great value was placed on a high comfort level, the finest materials and perfect craftsmanship when designing and producing the box spring beds. The black metal feet highlight the elegant look and perfectly supplement the timeless-modern hotel room style.
Cosy lounge armchair
The finest materials combined with fine wooden and metal elements create a unique feel-good atmosphere in the lounge area of the Austrian Trend Hotel Maximilian. Soft textiles combined with comfortable upholstery create a cosy flair and ensure palpable warmth and comfort. Our MIA swivel chairs in a puristic design are stylish eye-catchers in the room. The generously sized seat shell made of moulded foam, reminiscent of the traditional wingback chair, invites you to relax. Covered with the finest fabrics in a striking dark blue, we bring a breath of fresh air into the modern hotel ambience with the retro armchairs. The colour trend also radiates calm and pure elegance in bright open spaces and fits seamlessly into the overall concept of the Viennese hotel.
Do you need help planning your property?
We help you!
Do you need help shaping your vision?
Your visions and desires are the focus of your property planning. Careful preparation and a concept matched to your needs form the cornerstone for a successful implementation. As a renowned hotel and property outfitter, we accompany you in the planning phase, help you to implement custom concept solutions and create a cosy feel-good atmosphere, which awakens emotions and makes customers loyal.
Request a consultation now
configurable and
made to measur
Most of our furniture is individually configurable and available in custom-made products.
short
production time
Benefit with your project through our short production times.
headquarter in
Anger, Austria
As an Austrian company, we primarily focus on traditional values.