Interior of
Hotel Maximilian
Natural charm and modern comfort: In the Austrian Trend Hotel Maximilian, design is linked to tradition. The 4-star hotel in Vienna was renovated in mid-2020 and we equipped the hotel rooms and lounge with new, fresh upholstered furniture and beds.
Stylistically unique hotel room furnishings with maximum comfort
The harmonious overall concept of noble surroundings, historical flair and relaxed charm runs through the entire hotel and radiates homely cosiness and noble chic in every room. Our furniture has been designed to fit the specific style of the home.
Simply switch off and let your soul dangle: The furnishings and fittings of the hotel room are also important so that guests can feel comfortable in the hotel and forget the worries of everyday life. The quality of the hotel bed is of particular importance. Because if you wake up rested and with fresh energy, you will always have good memories of your accommodation. In the Austrian Trend Hotel Maximilian, we have created top-class sleeping comfort with our luxurious box spring beds.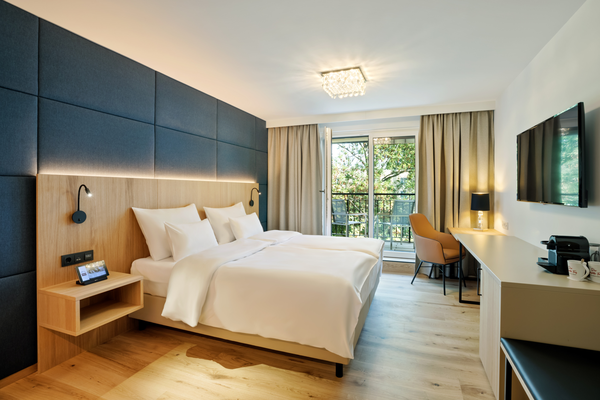 With a harmonious combination of spring base and mattress, the upper and lower bed is optimally ventilated, creating a personal retreat with an excellent lying comfort. The particularly high and point-elastic cold foam mattresses adapt precisely to the body and give way exactly where the body rests. When designing and manufacturing the box spring beds, great importance was attached to a high level of comfort, the finest materials and perfect workmanship. The black metal feet underline the elegant look and perfectly complement the timelessly modern hotel room style.
(c) of pictures: Österreichisches Verkehrsbüro
Comfortable lounge chairs
As a stylish eye-catcher in the room, our swivel armchairs MIA provide in a puristic design. The spacious seat shell made of molded foam, reminiscent of the classic wing chair, invites you to relax. Covered with the finest fabrics in eye-catching dark blue, we bring a breath of fresh air into the modern hotel ambience with the retro armchairs. The color trend also radiates calm and pure elegance in bright, open rooms and fits perfectly into the overall concept of the Viennese hotel.