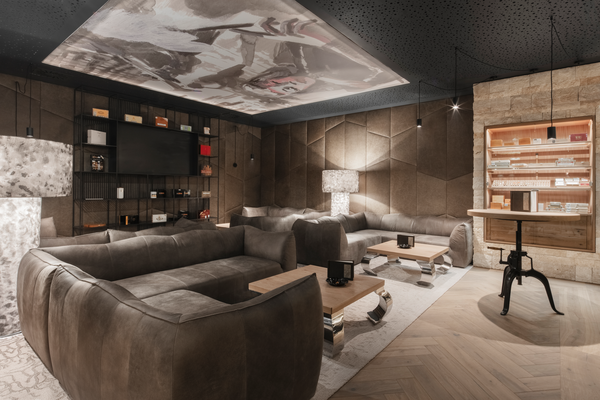 Interior of
Das Edelweiß
A resort you'll want to stay at: The luxury hotel Das EDELWEISS Salzburg Mountain Resort impresses with a coordinated overall concept that combines maximum comfort and modern design.
Whether a hotel room, restaurant, reception area or wellness area – the EDELWEISS impresses with an especially exclusive ambience and continues this throughout the entire hotel. The rooms were individually adapted to the hotel's luxurious style with our pieces of furniture made specifically for the wellness hotel.
Timeless interior design
Guests feel at home instantly in the spacious luxury suites and rooms. The grandiose box spring beds - covered with the finest fabric in a refined grey - together with the high-quality upholstered sofas and armchairs exude a harmonious and inviting flair in the hotel rooms. Thanks to their special look, the box spring beds blend perfectly in the room and draw all the looks. The typical structure of the box spring beds promises first-class sleeping comfort. The cosy upholstered pieces of furniture create the perfect retreat for guests, significantly contributing to a unique feel-good atmosphere. Timeless-modern design meets natural wooden elements here, creating a harmonious overall concept.
The ideal place to relax
It's not hard to find your favourite spot at this luxury resort. Because the large wellness area also leaves nothing to be desired. Over the five floors of the spa and wellness area, comfortable wellness loungers in stylish colours ensure maximum relaxation and recovery with their first-class upholstery. Different colour concepts in subtle greys or bright red exude refined charm in the relaxation rooms and highlight the fine hotel design.
But it's not just the wellness area that invites you to dwell. The interior of the restaurant, the lounge and the reception area also contribute to the hotel's elegant atmosphere with their comfortable benches and chairs in a trendy design. An extravagant design, special fabric patterns and the high quality materials of the special benches create a special ambience for the enjoyable haute cuisine of the luxury hotel. The colour selection with soft shades of brown, grey and green also underscore the stylish environment. So well-being is guarantee across the board.
Do you need help planning your property?
We help you!
Do you need help shaping your vision?
Your visions and desires are the focus of your property planning. Careful preparation and a concept matched to your needs form the cornerstone for a successful implementation. As a renowned hotel and property outfitter, we accompany you in the planning phase, help you to implement custom concept solutions and create a cosy feel-good atmosphere, which awakens emotions and makes customers loyal.
Request a consultation now