Equip your hotel room with our convertible sofa bed and add additional seating and sleeping accommodation to your space. The SMART sofa bed can be ordered tailor-made: from a wide range of colours, different armrests and a large selection of configurations. Configure your individual piece of furniture and give your hotel room the touch you want.
depth
100 cm
height
85 cm
seat depth
55 cm
seat height
44 cm
SMART
Sofa bed
individual covers
The SMART sofa bed is durable, easy to care for and incredibly practical. During the day, your guests have a cozy relaxation zone at their disposal - in the evening it can be transformed into an additional bed if desired. Thanks to the integrated bed function, the sofa becomes a sunbathing area in seconds.
The SMART sofa bed has a wide variety of types and configurations. In this way, you can equip your rooms individually. Depending on the space available, the piece of furniture is also available as an armchair or stool with a sleeping function. You can also choose details such as the shape of the armrests or the cover. Further modifications are optionally possible, for example the addition of a chaise longue or a bed box that offers additional storage space.
Whether as a couch or in the extended state - the sofa bed SMART looks good in any arrangement. The large upholstered areas are in perfect harmony with the soft lines of the sofa bed and invite you to relax with great comfort. The approximately three centimeter high glider feet, which were specially designed so that they are not visible, also contribute to the balanced appearance. The high-quality seat upholstery ensures unlimited moments of relaxation. The different cold foam elements are built up layer by layer on the inside, resulting in an unbeatably comfortable combination.
Technical structure & material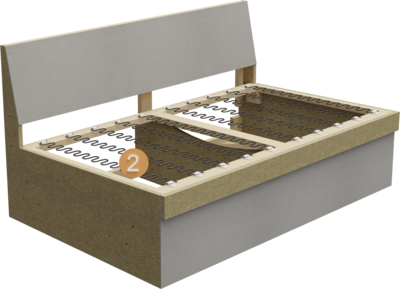 1. Frame
The robust base is the important basis for SMART. In order to ensure lasting stability over many years of use, hard and soft wood elements are used especially for load-bearing parts. Flat elements are reinforced with chipboard and plywood panels.
2. Spring base
The spring base also forms a perfect basis: NOSAG steel wave springs, which are part of the substructure, keep the upholstery above in position and enable a slightly springy feeling when sitting.
3. Back padding
Elastic, supportive, comfortable, breathable and soft at the same time. How to imagine perfect leaning. The polyether foam in the backrest fulfills all these quality features.
4. Basic padding
The basic comfort of the spring base is supplemented by high-quality polyether foam. The standard construction is dimensionally stable and softly elastic at the same time. In addition to this standard version, there is also a choice of seat upholstery with cold foam with a firm degree of hardness and a soft cold foam padding - for those who prefer a little more compact comfort.
5. Fine padding
A soft, thermally bonded padding fleece mat made of polyester fibers is used for the fine upholstery. The padding fleece is a protective layer that is attached between the cover and the foam and is the last padding under the cover fabric. The seat is well padded and unevenness is compensated. In addition, the mat gives the seat a fuller appearance and improves seating comfort.
6. Cover
A bright splash of color or a harmonious natural tone - choose your desired cover from a wide range of fabrics and textile leathers. With an upholstery fabric in the desired color and feel, you can give your sofa bed a very individual appearance.
7. Armrest
The sofa bed can be supplemented with different armrests. Choose your favorite style from narrow or wide variants, subtle or more striking shapes and different heights.
Downloads
Register now and get full access to the entire 3D database, photos and data sheets.
Get access now
Contact Us
We are looking forward to your inquiry.