As the central component of any bed system, the slatted frame serves numerous functions. Not only does it support the mattress above, but it also plays a pivotal role in ensuring a comfortable lying sensation and a well-ventilated sleep climate. Spoil your guests with unparalleled sleeping comfort by incorporating the AGETO slatted frame into your beds.
AGETO
Slatted frame
collection 2023/24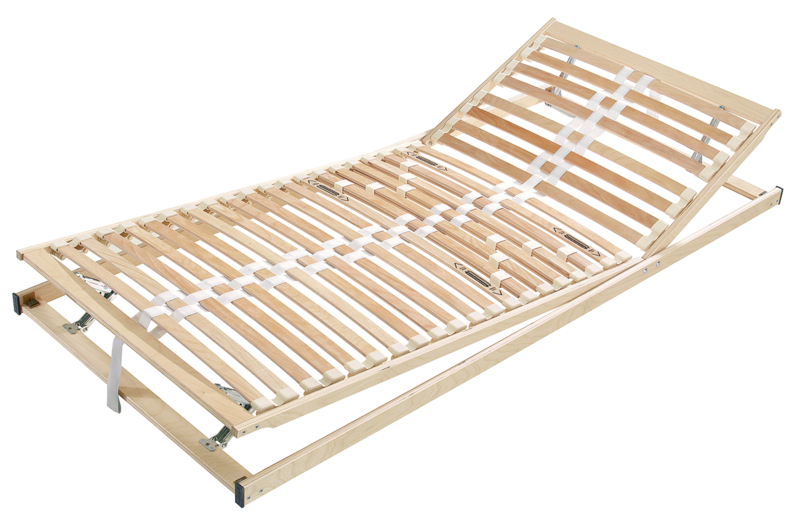 The sturdy spring base is constructed from a laminated wood frame, within which 14 flexibly-glued double slat elements are mounted using elastic rubber caps. This strategic arrangement of the wooden frame and laminated plywood slats allows for a comfortable bed swing. A triple central strap further enhances the spring effect, ensuring even weight distribution across the entire frame. Additionally, individual hardness adjustments can be made in the pelvic area using a slider mechanism.
In total, the wooden slatted frame is designed to accommodate a maximum body weight of 110 kilograms. For those seeking to provide guests with added luxury, there's an option to incorporate both head and foot positioning. Both the head and legs can be effortlessly adjusted to meet individual preferences.
Boasting a height of 6 centimetres, the AGETO slatted frame seamlessly complements standard sleep systems. Depending on your bed's dimensions, there are 4 different standard sizes from which to choose. For unique dimensions or intermediate sizes, custom special lengths are also an option.
The partnership with Symphonic is characterized by excellent advice and very good cooperation!
Florian Lingenfelder | König Ludwig Schwangau
Owner
Downloads
Register now and get full access to the entire 3D database, photos and data sheets.
Get access now