As the central component of the bed system, the slatted frame fulfills numerous functions. It supports the mattress on top and thus makes an important contribution to a comfortable lying feeling and a well-ventilated sleeping climate. Spoil your guests with excellent sleeping comfort by equipping your beds with the AGETO slatted frame.
AGETO
Slatted frame
collection 2022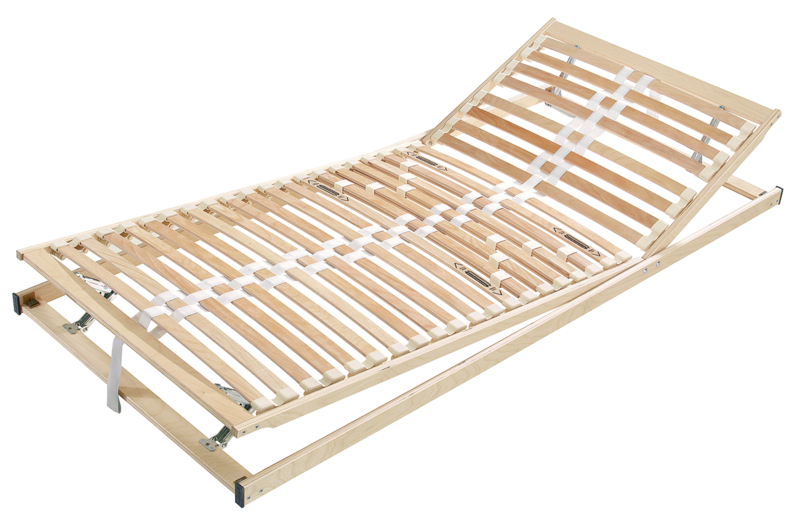 The stable spring base consists of a laminated wood frame in which 14 flexible double slat elements glued several times are mounted in elastic rubber caps. The effective arrangement of the wooden frame and laminated plywood slats allows the bed to swing comfortably. A triple central strap further improves the spring effect and helps distribute the weight evenly over the entire grating. In the pelvic area, individual hardness settings are possible using a slider.
Overall, the wooden slatted frame is designed for a maximum body weight of 110 kilograms. If you would like to offer your guests additional comfort, you can optionally add a head and foot position. Head and legs can be easily adjusted according to your own needs.
With a height of 6 centimetres, the AGETO slatted frame is an excellent addition to standard sleeping systems. Depending on the existing bed dimensions, you can choose from 4 different standard sizes. In the case of special dimensions or intermediate sizes, custom-made special lengths are also available.
The partnership with Symphonic is characterized by excellent advice and very good cooperation!
Florian Lingenfelder | König Ludwig Schwangau
Owner
Discover uniqueness
Register now and get full access to the entire 3D database, photos and data sheets.
Get access now
Contact Us
We are looking forward to your inquiry.