Converting a comfortable sofa into a cosy bed in seconds? Yes, you can do that with LETTA. Thanks to the integrated sleeper function, all it takes is a few steps to offer your guests an additional sleeping space. The lying surface is pulled out from the front in three simple steps while suspended above the floor – so the system not only saves time, but also saves the carpets and floors. The bed is made back into a couch just as easily.
LETTA
sofa
collection 2022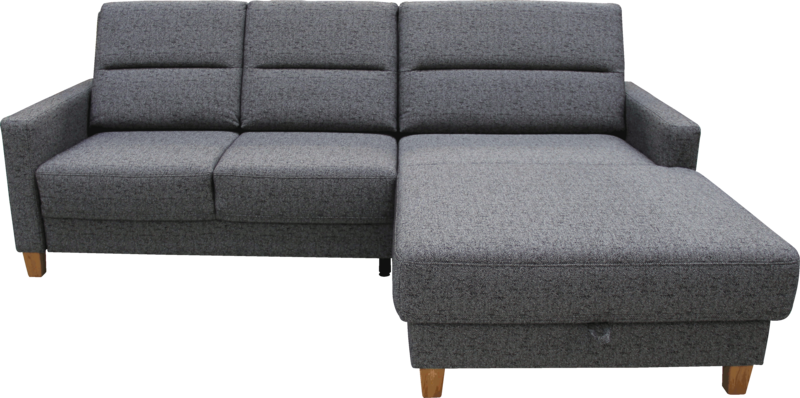 The living landscape can be excellently adapted to your spatial conditions and offers a wide range of options in its configuration: As a corner sofa, utilise niches perfectly. As an individual bench or as a free-standing version, the seat of seats is ideal, for example, for hotel or guest rooms. You can choose from a large selection of cover options as well as a number of foot models to match. You can optionally also add a bed frame to the sofa for additional storage.
A stylish design combined with spaciously designed surfaces and a high level of seating comfort together create a modern living landscape that is particularly functional.
Smooth and simple or more movement in appearance thanks to horizontal draw-in seams - you can choose the optimal look for your backrests to suit your personal style. From narrow to medium-wide to wide arm sections: the armrests can also be individually tailored to your couch design and offer additional flexibility in planning your personal living space.
In seconds, the LETTA living area with the comfortable bed function can be converted into a cozy place to sleep in just a few simple steps. The lying surface is pulled out from the front in a few steps and is therefore also gentle on carpets and floors. Add practical storage space to your living area for, for example, pillows, blankets or bedding with the optional bed box.
Our adaptability does not stop with the furniture feet. Choose from a range of foot models with a standard height of 10 cm. From aluminum, chrome and wood to lacquered black feet and different foot shapes, you can also adapt the lower part of the couch perfectly to your overall look. Particularly practical: the sofa can optionally be given roles, which makes it easier to relocate or transport it.
The cooperation with Symphonic went to our complete satisfaction. The competent advice, the reliable delivery and the excellent quality of the furniture exceeded our expectations. We would be happy to contact Symphonic again for furnishing the next property.
Inga Härtel | Villa Jenny
Owner
Technical structure & material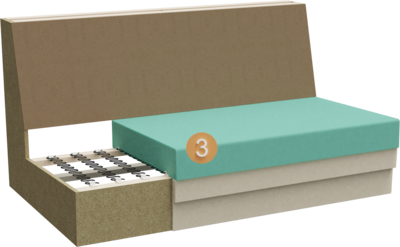 1. Frame
Wood and wood-based materials are used for the supporting substructure, which ensures the long-term stability of the furniture. Elements that have to withstand more stress are made of hardwood and softwood. Wood-based materials such as chipboard are used as surfaces such as the rear wall.
2. Seat structure
NOSAG springs, also known as steel wave springs, are stretched over the seat frame as an elastic basis. When you sit down, the spring base gives way in a targeted manner. After getting up, the springs return to their original position in a stable form.
3. Basic padding
The comfort of LETTA is already recognizable in the look. This continues in the seat. Instead of the basic version with polyether foam, you can opt for a cold foam with a fixed degree of hardness or a flame-retardant basic upholstery. Cold foam surpasses polyether foam even further in its adaptability and air permeability.
4. Back padding
Comfortable to lean on and elastic for the back. High-quality polyether foam is used for the backrest due to these material-typical advantages. The foam also convinces with good ventilation.
5. Fine padding
The soft padded fleece mat adapts snugly to the contours of the body when you sit down. The protective layer between the cover and the foam is the last piece of padding under the fabric or leather cover and provides additional padding for the seat and backrest with the finishing touch.
6. Cover
Bright yellow, calm beige or timeless grey? A wide range of cover materials in over 600 variants, from artificial leather to fabric in different designs are available for your individual selection. Give the sofa its own character.
7. Armrest
There are three different armrest variants to choose from. A 10 centimeter, 15 or 20 centimeter wide armrest can be added to the living area as desired.
8. Feet
The standard height of the feet is 10 centimeters. Choose from the base materials aluminium, chrome, wood or metal. Optional casters can also be attached for easy repositioning.
Downloads
Register now and get full access to the entire 3D database, photos and data sheets.
Get access now
Contact Us
We are looking forward to your inquiry.