The seating and communication landscape VIONA complements your premises with a cozy place for interaction. Transform offices and workplaces into creative zones or add a cozy atmosphere to waiting areas.
VIONA
Communication landscape
collection 2022
The upholstered furniture not only looks fantastic with its inviting seating surfaces, a firm yet somewhat harder combination upholstery and trendy, rounded edges – the enclosure, which you can add if you wish, also ensures privacy during spontaneous meetings or a break in between.
Depending on your design preferences, you can adapt the versatile piece of furniture to your interior. Choose your favorite from a wide range of upholstery fabrics and choose the feet to match.
The backrest can be added with a stitched look as an eye-catcher. It is also available in a smooth version for a sleeker look.
Varied placement options: The seating landscape looks good from every perspective and is covered all over with the selected upholstery fabric. You can arrange the creative upholstered furniture as individually as you like.
We attach great importance to first-class quality in all areas in order to meet the demands of our guests. That is why we chose Symphonic products.
Simone Leuschen | Rosenalp Oberstaufen
Marketing
Technical structure & material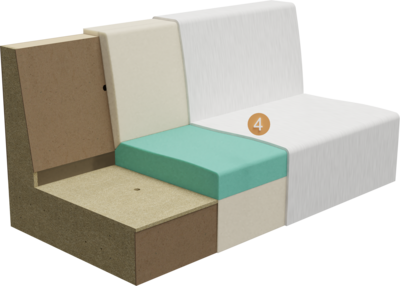 1. Frame
The robust frame forms the solid basis for VIONA. In order to ensure lasting stability over many years of use, hardwood and softwood panels are used especially for load-bearing parts and flat elements are also reinforced with chipboard.
2. Seat padding
Im Sitz wird Polyätherschaum verbaut. Nehmen Sie Platz und Sie werden die flexible Anpassung des Schaumes gleich merken. Über viele Jahre beständig hält er seine Form und sorgt überdies durch seine Struktur für ein gut belüftetes Sitzklima.
3. Backrest
Polyether foam in the backrest has proven to be ideal for leaning against. It easily yields to pressure and is extremely dimensionally stable at the same time.
4. Fine padding
A soft mat made of upholstery fleece is incorporated directly under the cover and over the core upholstery. It fine-tunes the seat structure and compensates for any unevenness. The resulting loose upholstery can cause model-related waves.
5. Cover
Do you want your new furniture in smooth textile leather or do you dream of textured fabric? Various furniture covers in different colors and haptics give you space for the individual implementation of your ideas.
6. Feet
Varied selection: Eight different foot models are available. These include versions in chrome, wood, aluminum or trendy black metal. Make a smart statement and match the legs to the rest of the design. The feet are available in a standard height of 16cm.
7. Enclosure
An enclosure can be added to VIONA as an option. Either as an L-design over the corner of the armrest and rear wall or as a U-design, pulled forward over both armrests - with the housing you create dignified retreats. The uncomplicated connectors also make it easier to assemble the walls.
Downloads
Register now and get full access to the entire 3D database, photos and data sheets.
Get access now
Contact Us
We are looking forward to your inquiry.