With its harmoniously proportioned design and distinctive side wingbacks, the BIONA wing chair creates a sanctuary for guests to unwind and relax. Whether positioned in the entrance, by the fireplace, or in the lounge, its welcoming aesthetics effortlessly infuse any space with warmth and comfort.
BIONA
Wing chair
collection 2023/24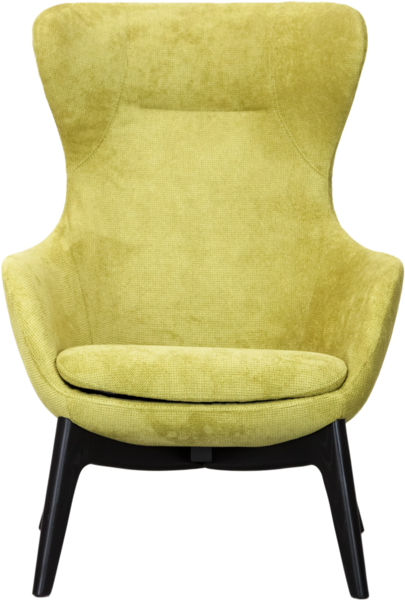 The BIONA wing chair reimagines the classic wing chair design with a contemporary twist, resulting in an elegant high-backed chair featuring soft, rounded lines and a hint of a shell-like silhouette. The armchair is accentuated by decorative stitching on the backrest and its cushioned seat design.
Its uniqueness is further amplified by customizable features. Based on your preferences, you can complement the main structure with your choice of feet – be it stationary or swiveling, available in various designs crafted from wood or metal. Equip the wing chair with a standard four-legged frame or, alternatively, select a rotating turntable or star base. To round off your design, the chair can be upholstered in your desired material. An extensive array of fabric and faux leather collections is available to ensure a bespoke finish.
Technical structure & material
1. Frame
The frame of BIONA is made of metal.
2. Basic padding
The club chair is padded with high-resilience foam RG50 on the seat and backrest.
3. Fine padding
As a finishing touch to the seat cushioning, a soft padded nonwoven fabric mat is applied.
4. Cover
The cover of the club furniture can be customized according to personal preferences. Various materials, colors, and textures - from velour to textured fabric to faux leather - provide maximum freedom in the final design touch.
5. Feet
BIONA is available with fixed wooden legs or swiveling legs in the form of a swivel base or a star-shaped base.
Downloads
Register now and get full access to the entire 3D database, photos and data sheets.
Get access now