The BONDO armchair can already be identified at first glance as a modern seating option with a certain twist. Soft and inviting, it receives guests within your premises. With a large seating area, striking details and beautifully designed feet made from real wood, the trendy armchair is a real eye-catcher. It works particularly well as an individual piece – but it also cuts a good figure as a cosy seating group when combined with the matching furniture pieces from the series, such as the stools or club sofas.
BONDO
lobby furniture
collection 2022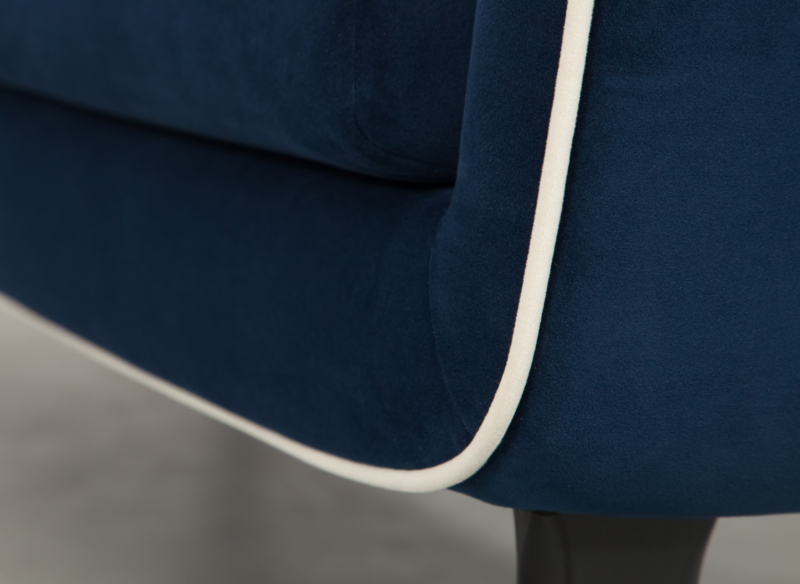 The large selection of variants with different cover options in a multitude of colours means the armchair can be perfectly adapted to your individual desires and emanates a tough of that 70s flair. High quality materials and craftsmanship as well as fine details, such as a finishing piping seam on the edges, also create a complete overall look. The four rows of button stitching on the backrest is the unmistakable style element. Practical addition: Overall, the BONDO armchair has a light weight so that you can reposition it in no time.
With a timelessly charming armchair, pure elegance moves into your rooms. As a real highlight, Bondo fascinates with refined stitching. The elegant, four-row button stitching on the inside of the low, rounded backrest rounds off the attractive look of the armchair. The modern, linear design is reminiscent of the Nordic style and expresses maximum comfort. In addition, a luxurious piping enhances the look of Bondo. Slightly flared solid wood feet, optionally made of beech or oak, give Bondo a chic look and a cozy shape. Strength, durability and stability characterize the two types of wood and make Bondo a long-term companion. A light, finely structured grain characterizes the slender wooden feet.
Technical structure & material
1. Frame
The robust base forms the basis for BONDO. In order to ensure lasting stability over many years of use, hardwood and softwood are used especially for load-bearing parts. Flat elements are reinforced with chipboard and plywood panels.
2. Seat structure
Permanently durable and dimensionally stable nosag springs in a typical wave shape form the slatted base of the seating area. The steel wave springs stretched over the wooden frame create a slightly springy seating comfort and carry the upholstery on top.
3. Backrest
Elastic upholstery straps are used to spring the backrest. They keep the entire backrest in shape and also enable soft leaning and thus comfortable seating.
4. Basic padding
The seat is equipped with high-quality polyether foam as standard. On request, we can manufacture the club furniture with cold foam with a medium firmness or a flame-retardant basic upholstery. All qualities ensure anatomically correct seat pressure distribution and excellent air circulation.
5. Back padding
High-quality polyether foam with hard fiber strips on the backrest ensures soft seating comfort. Elastic, supportive and soft at the same time, the foam absorbs body movements. The material is also pleasantly breathable.
6. Fine padding
The core upholstery is harmoniously balanced by fine upholstery. A padded fleece mat, which is attached directly under the cover, optimally compensates for minor unevenness. All in all, this creates a comfortable overall upholstery.
7. Cover
Give your club furniture an individual look and choose from different cover materials. From smooth faux leather to textured fabrics, with so many materials to choose from, it's not easy to find your favourite.
8. Feet
Natural furniture feet made of durable beech wood complete your club furniture and round off the design. Optionally, four solid oak legs can be added to BONDO.
Downloads
Register now and get full access to the entire 3D database, photos and data sheets.
Get access now
Contact Us
We are looking forward to your inquiry.