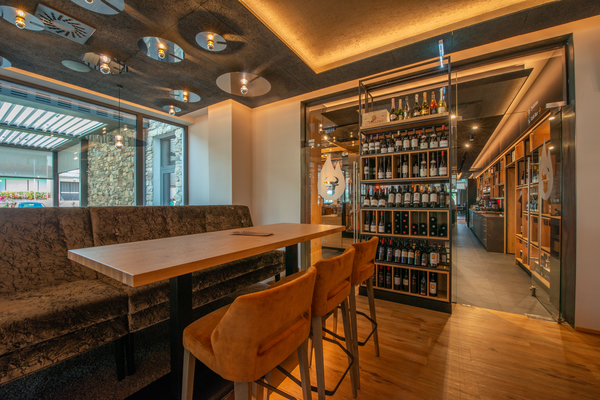 Upholstery fabrics for restaurant benches: what is a "must"?
From (chenille) flat woven fabrics and woven velor to flocked velor and flocked goods to swirl fleece and microfiber fabrics - our cover fabrics for gastronomy, hotels and contracting are of the highest quality and free for every situation. Carefully selected materials are checked according to the strictest quality criteria and then processed into elegant covers in a variety of designs. There is more to it than meets the eye. Because functionality, durability and longevity also belong to the high demands of the hospitality and hotel industry.
Above all important: a special stain protection. Hygiene is required wherever many people come together, eat and drink. Covers without a water- and dirt-repellent effect have to be replaced frequently because they are no longer attractive after long periods of use. This costs time and money. That is why many fabrics are now equipped with special coatings. The SYMPHONIC seat covers are completely protected by the protective coating of each individual fiber. Oil and water, even fire and bacteria are effectively kept away from the textile. The antibacterial aspect is playing an increasingly important role for owners and guests. An additional protective layer inside the cover fabric prevents water, moisture and moisture from penetrating. When buying, it is important that the upholstery fabric is universally applicable, easy to care for and with additional UV protection, and that it is suitable for commercial use.
In case of doubt, compliance with the strict fire protection regulations that apply to public buildings is life-saving. This includes flame-retardant textiles. This refers to materials made from modified polyester fibers, for example, which melt in the event of a fire and do not continue to burn without an external source. As a result, hardly any toxic gases develop and the escape time is considerably increased. In hotels and restaurants, it is therefore important to use flame-retardant or flame-retardant upholstery fabrics.
All of our textiles meet the varied and high requirements that are made in the hospitality industry. In addition, there are high-quality wooden panels and selected hard and soft woods, which, in combination with the durable cover fabrics, create the perfect seat in the restaurant. Because only the right equipment offers guests an all-round pleasant experience. Comfort, design and quality play a decisive role in wellbeing. But also ambience, acoustics and room situation, which are determined by the optimal selection of fabric type and color as well as by the size and arrangement of the seating.