Fantastic dreams: when mattresses become sleeping paradises
It is well known that only those who sleep well are full of energy. Starting the day stress-free and full of energy is the basis for a healthy and balanced life. The body regenerates and recovers, especially at night. Choosing the right mattress is all the more important. In hotels in particular, a high level of sleeping comfort, which is largely dependent on the mattress and hotel bed, plays a key role. Because a well-balanced night's sleep on a business trip or vacation leaves a lasting impression and decides whether the hotel will be booked again or recommended. In contrast to the individually tailored bed, a comprehensive requirement is made of hotel mattresses in order to be able to serve the personal needs of a wide variety of guests. Symphonic therefore offers mattresses with different product properties. Durable, hard-wearing, high-quality and comfortable: all Symphonic mattresses are characterized by these key characteristics.
Symphonic presents various models such as spring core, pocket spring core, cold foam, single or double, 5 and 7-zone mattresses with various degrees of hardness, sizes and widths. Accordingly, the mattresses are suitable for different sleep types and body sizes and cover numerous interfaces for hotel operations. The combination of Symphonic mattress, compatible topper and supporting spring base ensures an optimal lying comfort, which leads to relaxed sleep. In addition, hygiene and tested, beneficial materials are essential.
The hallmark is the OEKO-Tex standard, with which all Symphonic mattresses have been awarded. The "Confidence in Textiles" seal is one of the well-known quality certificates and is awarded after precise testing of textile raw, intermediate and end products at every processing stage. The award applies to all components of the product and belongs to the highest certification class. Symphonic mattresses with this standard combine a complex interior with high-quality exteriors. While the spine can rest in its natural position thanks to the mattress core, optimal air circulation creates the basis for a pleasant sleeping climate.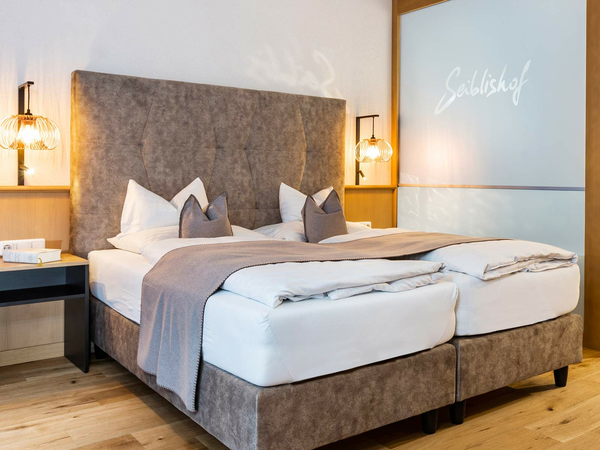 Sleeping comfort has an effect on body and mind
Barrel pocket spring core mattresses are designed in such a way that the individual springs are shaped like barrels and placed side by side in rows. While this type of spring has a bulbous shape, pure spring cores show the typical spiral structure with high point elasticity. With barrels, however, the individual springs can be compressed so that adjacent springs vibrate. Barrel pocket spring cores are also air-permeable and point-elastic. This means that the mattress core yields directly at the pressure point that is affected by the load.
However, an ideal mattress is only as good as its base. Because the basis for optimal lying comfort is also the right slatted frame. At best, both should be selected and coordinated together. Because the best possible sleeping system is only achieved when the bed and slatted frame, mattress and topper are put together. Springy slats of the slatted frame are the basic basis so that the mattress can develop additional dynamics and the body is perfectly supported. This effectively counteracts possible neck, pelvic or back pain. The classic slatted frame is immovable in terms of height. Symphonic offers a central zone in the shoulder and pelvic area with an adjustable degree of hardness in selected models, which can also be combined with all mattresses. Slatted frames with head and foot lifters allow guests to adjust their lying position individually. With the help of the weight-distributing functions, Symphonic provides a stable, safe sleeping surface with high ergonomics.